How to Stay Motivated While Working from Home
This post was sponsored and written in partnership with Foster Grant Readers, all opinions and tips are my own!
I've always been someone who finds motivation in routine, results, and hard work, but when it comes to being your own boss and working from home things can get tricky. Many 20-somethings including myself are lucky enough to be a part of a work-culture that involves working remotely or for oneself out of a home office. It's a perk that many of us love, but at times also loathe. It's taken me years to get into a routine where I can avoid distractions and become insanely productive, these are a few tools and steps to stick to a schedule.

Set Social Aside: As tempting as it may be to want to check your social, avoid it! You're working on your own time, so remember that every time you scroll through Instagram instead of focusing on your work you're taking away from your paycheck. I know this may vary from time to time if you work in a field where social is your job, in that case, scroll away!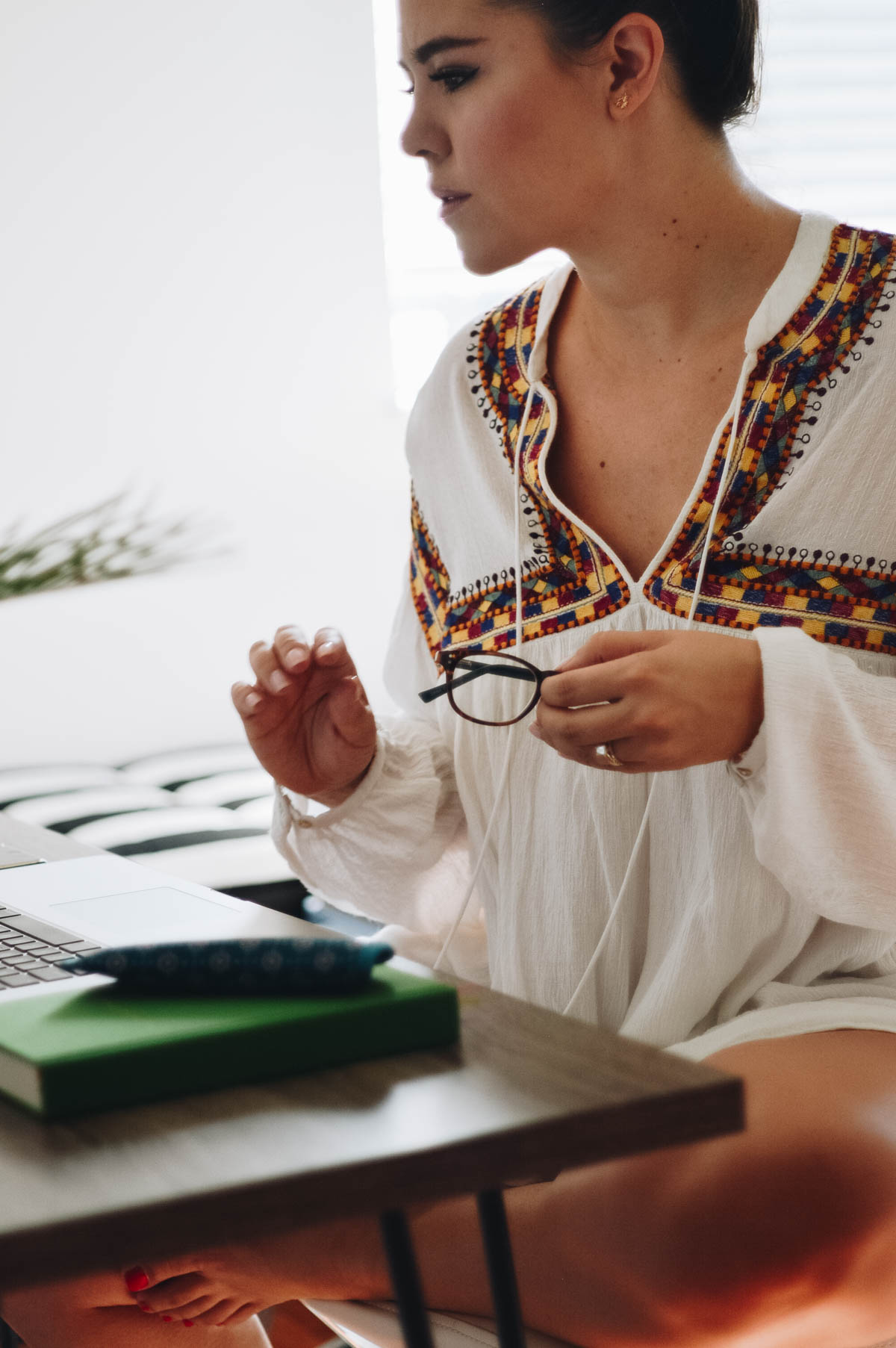 If you find yourself in front of the computer screen or reading for more than a few hours at a time you've got to give your eyes a break. Readers are a great way to give your eyes the power they need to continue to tackle your to-dos. Taking care of your eyesight is essential to keep eyes in their best form. Foster Grant Readers makes high-quality, non-prescription reading glasses that aren't only stylish, but also quite affordable. I like to keep a couple pairs on hand, one in my office and another by my bed.

Create an Inspiring Space: If you're lucky enough to have a room set aside for working, such as an office, make it a space you enjoy being in. There really isn't anything worse than forcing yourself to try and be creative in a room that is less than desirable. Make it a priority to fill the space with things you enjoy, whether it be minimal, bright, or colorful decor. For me, I prefer a space that is first and foremost, CLEAN! I like to hang wall art that is thought-provoking but, also readily changeable should I want to switch things up.

Stick to a Schedule: Just like any 9-5 corporate job, sticking to a set hourly routine will get you into the zone. There are so many distractions that come with working from the home so remember to set a time you're comfortable with. Make it a point to track your time and keep extended breaks to a minimum, while also remembering to take them! After all, you do need to take a break from time to time.
What are your tips for sticking to a routine?
Need readers? Pick up a pair of Foster Grant Readers for 20% off with code Readers20 , expires 10/31/17.